Conference room Roos
Chamber Roos is a quiet room at the front side of our building. It is very suitable for coaching purposes, as an extra room or as a room for taking assessments. Roos is also very well suited for meetings in small group sessions (6 to 8 people). This room has its own bathroom.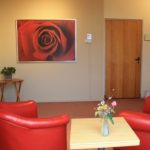 If required, we have coffee, tea, water, cookies and fruit ready for you there. The room can be provided with a flip-over, projection screen and/or beamer.
Details:
Sizes: 4 x 3.6m = 14m²
coaching setting: 2 people in 'active sitting position' or in relax armchairs
Covid-19 time – maximum occupation rooms
| Zalen | H. (m) | Opp. (m2) | Afm. (m) | Kring stoelen | Carree | U-opstelling | Theater | Receptie | Kring matjes | Dinner | Board |
| --- | --- | --- | --- | --- | --- | --- | --- | --- | --- | --- | --- |
| Tuinzaal | 5 | 95 | 10,6 x 8,9 | 16 | 17 | 14 | 36 | nvt | 16 |   |   |
| Patiozaal | 3 | 73 | 8,5 x 8,5 | 16 | 16 | 13 | 23 | nvt | 16 | 16 | 16 |
| Binnenhofzaal | 3 | 72 | 6 x 12 | 17 | 15 | 15 | 22 | nvt | 17 | 15 | 15 |
| Zuidhof | 3 | 54 | 6,5 x 8,3 | 12 | 12 | 10 | 10 | nvt | 12 | 12 | 12 |
| Kapel | 6,5 | 99 | 11,7 x 8,5 | 17 | 16 | 15 | 46 | nvt | 17 | 16 | 16 |
| Voorkamer | 3 | 23 | 5,8 x 4 | 9 | 6 | 7 | 10 | nvt | 9 | 6 | 6 |
| Kamer Roos | 3 | 15 | 3,9 x 3,8 | 3 | 3 | 3 | 3 | nvt | 3 | 3 | 3 |
Normal: maximum occupation rooms
| Zalen | H. (m) | Opp. (m2) | Afm. (m) | Kring stoelen | Carree | U-opstelling | Theater | Receptie | Kring matjes | Dinner | Board |
| --- | --- | --- | --- | --- | --- | --- | --- | --- | --- | --- | --- |
| Tuinzaal | 5 | 95 | 10,6 x 8,9 | 40 | 40 | 30 | 70 |   | 22 |   |   |
| Patiozaal | 3 | 73 | 8,5 x 8,5 | 38 | 30 | 24 | 60 | 70 | 22 | 32 | 26 |
| Binnenhofzaal | 3 | 72 | 6 x 12 | 24 | 28 | 26 | 56 | 60 | 20 | 30 | 32 |
| Zuidhof | 3 | 54 | 6,5 x 8,3 | 18 | 24 | 18 | 28 | 40 | 14 | 22 | 20 |
| Kapel | 6,5 | 99 | 11,7 x 8,5 | 38 | 36 | 32 | 110 | 150 | 16 | 60 | 34 |
| Voorkamer | 3 | 23 | 5,8 x 4 | 14 | 14 | 10 | 22 |   |   | 14 | 12 |
| Kamer Roos | 3 | 15 | 3,9 x 3,8 | 6 | 8 | 10 | 8 |   |   | 8 | 6 |