Your Stay in our Priory Hotel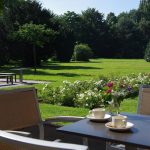 Whether you come for a training session, workshop or retreat, we will make your stay into an experience never-to-be-forgotten. This experience is described by many as 'recovering one's breath'. You will feel the power of pureness and the authenticity of our biological and vegetarian kitchen. We experience more and more demand for vegan (animal-product-free) meals, and other special (dietary) wishes: do not hesitate to ask us. We like to assist in this, especially because it often blends in very well with our vegetarian kitchen. Even guests who were reluctant at first about the vegetarian meals, have stated after their stay that 'in fact they did not miss meat at all'. Our dinners offer a great variety of dishes: we serve the best of the North African and Asian kitchen, but also from – closer to home – our European cuisines. Our guests speak very well of our chefs.
Due to our deliberate biological choices we have been granted the EKO-Gold Quality Mark: sustainabitity and corporate social responsibility runs through our veins. Over 80% of our purchases are biological, we discourage waisting food, continually try to avoid the use of plastics and aim for a circular economy.
During your stay, our staff is professional but not formal. They leave groups to their own processes when necessary, but also like to have a chat with you. They will be there to take good care of you in the way your training session or stay needs. Please inform us if you need something, would like to alter something or need a dietary change.
The construction and atmosphere of this former cloistered priory enhances the longing for peace and quietness, and the multitude of small candles adds to an memorable ambiance and a feeling of timelessness.