Facilities at our Priory Conference Centre
Besides the usual facilities, such as a welcoming and committed team, presentation facilities and meal service we offer you the following extra's in our priory hotel:
Woonkamer
The Woonkamer (living room), which has several sitting area's, is open for use to our guests all day. As part of our standard service guests will be supplied with fresh bean coffee, several coffee specials and a variety of teas. A slice of Dutch gingerbread, fresh biological fruits and cookies are freely available. During the evening these are replaced by a variety of nuts and you are free to help yourselves to drinks from your own small refrigerator. Make yourselves comfortable by the wood stove and enjoy a nice evening.
Eetkamer Restaurant
In our Eetkamer (dining room restaurant) you can indulge yourself in our well-served, rich and biological meals. Breakfast and lunch are served as a buffet, our exuberant dinners are served at your own group tables. The authentic dining room is still from the time the priory nuns had their meals here, which can be seen with your own eyes from our small nostalgic pictures corner. The dining room doors bring you straight into the orchard, where a selection of picknick tables and seats are waiting for you, if the weather allows it.
Guestrooms
Samaya has 27 comfortable guestrooms including 46 comfortable beds (Auping), which number can be increased to a maximum of 50. You can choose a single room, a twin room or (a few) shared rooms. Each room has its own bathroom and most of them are on the ground floor with views of the gardens. Be surprised by the overwhelming peace of our rural surroundings. We now also have a guestroom for disabled guests.
WIFI-corner
The WIFI-corner has a coffee machine with fresh bean coffee and a variety of coffee specials. And of course you may choose from a large variety of teas too. A large office table offers space to our guests who 'just need to work a bit' or feel the need to contact the outside world via WIFI. This is the only spot in which WIFI is always available. If requered we can turn off the WIFI in your conference rooms.
Work spots in the Corridors
In addition to the work spots in the WIFI-corner there are lots of work spots and seating areas in the corridors should you need to leave the conference rooms for small group sessions to practice or to discuss things with fellow participants.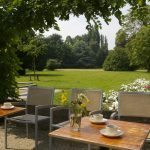 Terraces
Samaya's garden offers two terraces for general use, one of these is roofed-over. Both terraces offer beautiful views of the garden in every season. Rubber boots and umbrellas are availabe there for those who would like to stroll into the garden in 'typical Dutch weather'.
Garden
The 3 hectare enclosed garden offers various locations to continue the conversations you started indoors outside. Or you can just go for a peaceful stroll. Our garden is also used for extraordinary outdoor workshops, such as archery, the coaching of horses or training sessions with birds of prey. At the rear of the garden there is the Maze.
Charging your electric car or bike
At Samaya you'll find 4 charging points for electric cars: the 2 Tesla charging points are free of charge. The other 2 (equipped with a type 2 socket for Mennekes plugs) may be used to charge your electric car at low costs. Our bikers are not forgotten either: we offer them 4 charging stations.
Please ask our Front Desk what we have to offer in the field of indoor- and outdoor activities.