The garden at Conference Centre Samaya has three terraces for public use. The terraces offer beautiful views of the garden in every season.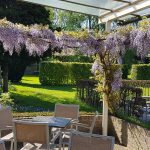 The large roofed-over terrace directly outside the building offers chairs and tables. Rubber boots and umbrellas are available if you want to keep dry clothes and shoes in wet weather. For the cooler moments you can use the wrapping blankets, so you can fully enjoy the views, the birds and the silence.
The second terrace, on the edge of the large back garden, has chairs and tables and centres around a large fire bowl. You are free to use these. There is fire wood piled up on the roofed-over terrace.
The third general terrace is situated just outside the dining and living room and can be reached via the French doors in both rooms. Feel free to take your plate or drink out there to enjoy the sunset!